Is it your birthday in February? Happy Birthday!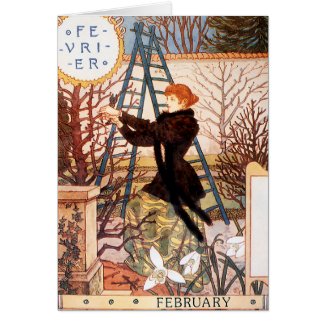 Card: Month of February – Février by VintageCabaret
Let's see who else was born in February…
1      Clark Gable
2      Shakira
3      Morgan Fairchild
4      Alice Cooper
5      Barbara Hershey
6      Bob Marley
7      Charles Dickens
8      James Dean
9      Ziyi Zhang
10    Roberta Flack
11    Taylor Lautner
12    Abraham Lincoln
13    Jerry Springer
14    Jack Benny
15    Galileo Galilei
16    LeVar Burton
17    Michael Jordan
18    John Travolta
19    Smokey Robinson
20    Rihanna
21    Alan Rickman
22    Drew Barrymore
23    George Frederic Handel
24    Steve Jobs
25    Pierre Auguste Renoir
26    Johnny Cash
27    Elizabeth Taylor
28    Linus Pauling
29    Tony Robbins
Your birthstone is the Amethyst
Amethyst keychain by Meredith Dillman by meredithdillman
Ladies born in February will appreciate the gift of an amethyst.
This beautiful amethyst pendant is set in sterling silver and hanges on a beautiful rope chain.
Complete the gift with a pair of matching amethyst earrings, or find an amethyst bracelet to make this a birthday to remember!
Photo: Sterling Silver 8mm Round Amethyst Pendant w/ Light Rope Chain, 18
Your Astrological Sign is:
Aquarius: Jan 20 – Feb 18
Aquarius Baby (unisex) by HahpiStuff
Although friendly and expressive, people born under the sign of Aquarius enjoy being different. They are not ones to blend into a crowd and would rather do their own thing.
Aquarians are also known for being strong-willed and emotionally they may also be quite mercurial.
Aquarians tend to have a strong intellectual side with good memories.
The element of Aquarius is air.
Pisces: Feb 19 – Mar 20
Pisces Baby (boy) by HahpiStuff
A Piscean has a pair of swimming fish for a symbol, and like the fish their emotions run deep. They can be very sensitive and easily hurt, but are quick to help others in need.
Pisceans are often quick to learn and have a good eye for detail. On the other hand, they can be scatter-brained.
Pisces is a water sign.
Find a February Birthday Greeting Card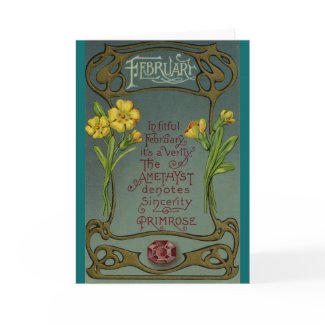 February Birthday Primrose & Amethyst by pinkalmond

Girl's February Birthday by stickpeople

Pink Purple Winter Scene Happy Birthday Card by mrssocolov2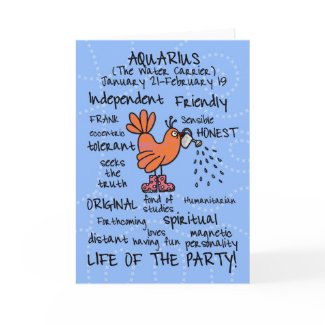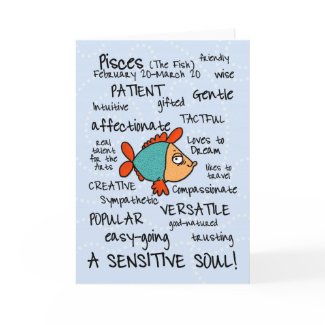 zodiac word cards – pisces by cfkaatje