Assumption Day is a Catholic celebration observed by all Catholics in the world on August 15. The day is supposed to be the one when the Virgin Mary's body and soul rose to Heaven. For those who aren't familiar with the subject, the Virgin Mary was Jesus' mother.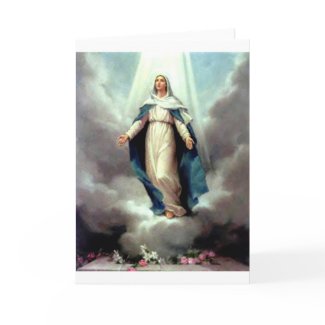 Assumption of Mary
by stjosephschool on Zazzle.com
Assumption Day is a Catholic Celebration
In predominantly Catholic countries, the assumption of the blessed Virgin Mary is celebrated on this particular day (Jour de l'Assomption, in French) and is among the public holidays.
All over the countries, churches celebrate special masses during the day and many people attend those celebrations. Although in West European big cities, such traditions tend to be overlooked, in rural areas, villages and smaller towns still hold some festivals.
These festivals might include silent and religious parades, communal meals during special events as well as some sport events.
Faithful or not, many people often attend those festivals as the holiday falls during summertime holidays and is mostly a bank holiday; which means that people don't have to go to work on that day.
Only cafes, restaurants and alike are opened on Assumption Day as the day brings tourists and, therefore, money to them.
Assumption Day in Lourdes (France)
Instead of what some pretend, Saint-Denis is actually the Patron Saint of France but the Virgin Mary is as important as Saint Denis in this country. One of the most important places on Assumption Day is Lourdes, located in France. This is a French southern market town near the Spanish border.
Lourdes is famous for the numerous apparitions and miracles it brought to people. For example, the most known apparitions occured in Massabielle grotto from February to July, 1858.
Bernadette Soubirous was the teenager who witnessed these apparitions and became famous because of them; she's still famous although she died long ago. She was supposed to have seen the Blessed Virgin Mary.
This is the reason why Lourdes plans special celebrations on Assumption Day (August 15) each year. Those celebrations bring a lot of people coming from countries all around the world to attend the celebrations held in Lourdes.
Tips when Travelling on Assumption Day
Because the Assumption of Mary Day is a public holiday, and thus a day off, inactivity prevails in most Western Europe areas. Therefore, you won't be able to go to the bank nor the post office on August 15. Most shops are also closed on this day, as well as supermarkets – apart from those that are 24/24 type.
However, in touristic areas, cafés and restaurants are opened to the public as, as mentioned above, Assumption Day, like any other holidays, brings a lot of tourists and consumers in those areas an, therefore, money.
Another thing you should pay attention to on the Assumption of the Blessed Virgin Mary Day is that if this day falls on a Tuesday or a Thursday, the previous day or the very next day might be one which is also a day off. This means that, although supermarkets are opened, banks and post offices will surely be closed as well.
Indeed, this is our way to have a long weekend: the French expression for such a thing is "faire le pont" (take the extra day off). It is recommended to inquire about the local practices before heading to one of our lovely countries.
Assumption Celebrations in Capital Cities
While small towns and villages might close most of their stores, shops and other offices, the capital cities keep their main services opened to the public.
Obviously, you'll always find trains and buses on Assumption Day even while these are in a shorter number.  Railway stations and airports are opened but some stores inside might be closed.
However, chances are that, if you're Catholic and look for special August 15 celebrations in capital cities, you won't find a lot of them. Therefore, I suggest to prefer to visit provinces so that you can enjoy the Assumption of Mary Day's celebrations.
August 15, Activities in Brussels
On August 15 and 16, the Wolvendael Park will hold classic concerts for music lover in their  Open-air theater. Concerts will start on August 15, 11:30 AM and there is no entry fee. However, in case of rain, concert will take place in Uccle's cultural center (47, Rue Rouge – 1180 Brussels).
Programme:
Sunday 15 August: Klezemer music: Dance of Joy
Monday 16 August: Jazz: Brussels Little Big Band
Each year, like clockwork, Brussels holds his most famous event: the great Flower Carpet; which is a carpet made out of thousands of flowers; which you can admire on the Great Place.
Programme:
Carpet theme: European Union
From 9 AM to 11 PM. Sound and light features.
Conclusion
In summary, the Assumption of the Blessed Virgin Mary is one of the major European and Catholic holidays. In many areas, it has a very special meaning and is important.